Order Sarah's New book
The Big Cosmic Joke - A Pocket Guide to Humanity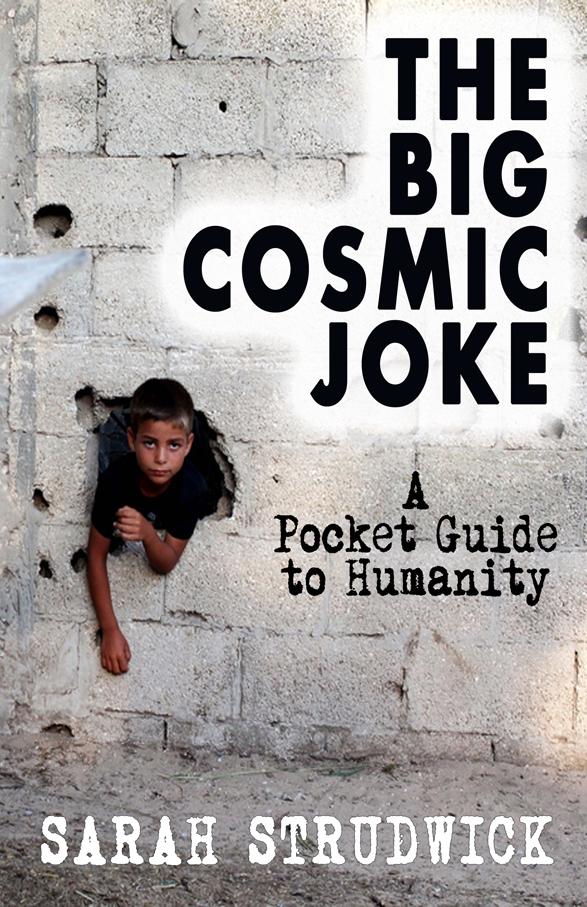 In this new book Sarah takes a satirical look at the way in which society has changed over the last few years.
A short story based in the not too distant future with a cast of fictional characters it describes the world as a soap opera with a number of starring actors each playing a role. After reading the book it poses many thought provoking questions about humanity and what can be done to make a positive change.
For all purchases of the Big Cosmic Joke either via Amazon or this website half of all profits will go to a new non governmental organisation called Friends of Gaza. The donations will provide much needed support for the people there including initially setting up accommodation where internationals can stay during their visits to Gaza. You can find more details on the donation page of this site.
If you would like to read more aout Gaza you can go here www.hummingbirdsofgaza.com
About the Big Cosmic Joke
"The perfect pocket sized book to give to all your friends who think that everything is OK and right with this world - in time for Xmas"
"At first glance you might think The Big Cosmic Joke is simply an entertaining fairy tale, albeit a very dark and adult one. However behind the black humour, the clever characterisations and the wise and witty words lie some sinister truths. This book reveals the reality of our sick society and begs the question - Isn't it time you woke up? In The Big Cosmic Joke, Sarah Strudwick makes some sharp observations about human nature and summarises astutely exactly why society is working against rather than for the vast majority of us. This book should be compulsory reading for everyone - highly recommended.
Sharon Simpsonwww.empathicguidance.wordpress.
Available on Amazon and Kindle
Welcome to Waking You Up
There are many books by experts on psychopaths, sociopaths and narcissistic personality disorder. There are also more than a few books from survivors and victims of these types of predatory people. In addition to that there are a number of resources available for people in the form of support forums for surviving abusive relationships and refuges for women who have had domestic violence or are suffering from emotional abuse or been conned by sociopaths.
However sadly most of these stories will only appear in the media, often when its too late. You see stories about psychopaths and those suffering from narcissistic rage time and time again, when people end up murdered. The victims of these people are left devastated, both financially and emotionally. More importantly they are left spiritually lost.
However out of all the darkness most victims have what can only be described as a "lightbulb" moment where they finally wake up. They stop trying to figure out the reasons why these people are doing what they are doing and put all the energy they have focussed on the disordered personality such as the NPD, or the sociopath or psychopath and put it into themselves so that they can heal. They start to understand the reasons why they got into the relationship in the first place by searching for answers and eventually they find some kind of healing.
Unless people have actually been in relationship with them its extremely hard to describe how it affects victims and those around them. Even professionals find it difficult to understand how the psychopathic mind works let alone help their victims. Its also very hard for anyone to get their head round the fact that the psychopath or sociopaths sole modus operandi is to intentionally go out and exploit people right from the very beginning. The narcissist on the other hand causes the same carnage although most will agree that they tend to do it by accident as they are so self obsessed they don't actually care what people think about them.
What most people find very hard to understand is that psychopaths are not like the rest of us, and everyone who studies them agrees they should not be treated as if they were. In addition more and more experts like Dr George Simon, who pioneered in the field of the disorded individual are starting to wake up to the idea that old methods of treatment that work on normal people do not work on disordered individuals and the whole model of psychotherapy needs to change. It's rarely the predators, NPD's, APD's who get diagnosed, because it's the victims who end up in therapy.
So why another website about these Psychopaths/Sociopaths and Narcissists
?
Because this video is how Psychopaths see us!
To find more educational videos created by Sarah Strudwick visit her Youtube Channel
This website was jointly created by a number of contributors and sponsors including Sarah Tate and Sarah Strudwick in order to educate people and give them tools so that people become more aware about disordered personalities.
Why ? So that people can have a lightbulb moment BEFORE they get victimised by a psychopath.
There is no support forums for co dependants or empaths on this website. But there is a page where people have shared their stories.
Our aim is provide education and workshops so that people can learn about how to spot these people before they spot us.
There are many education programmes all around the globe on, health, drugs and safe sex however why is it that there are no education programmes on spotting psychopaths? Statistics estimate that more than 1 percent of the population have either psychopathy or Narcissistic personality disorder and many have both disorders.
Sarah Tate and Sarah Strudwick have both experienced first-hand what it's like to be in a relationship with a pathological partner, and both have written books about their experiences, which they hope will help others identify these predators before it's too late.
When will this type of behaviour have to stop and when will people start to wake up to the fact that these predators are out there working in everyday jobs, lying and manipulating people for financial emotional or sexual gain.
When will therapists stop having to clean up after their mess?
The following article written by one of the best experts on psychopathy Dr Robert Hare, describes why the press do not want to be educated and why big shows like Oprah and others wont have authors on unless they can turn it into a circus and why as a result there will continue to be many support groups until a proper education programme is in place and people start to wake up.